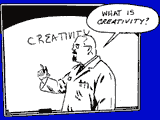 "Independents" (feature film - 2007 - 77 min. - DVD) is a documentary quest for the proverbial Well of Ideas. In questioning what it takes to make an artist, and why people would choose to struggle in creative obscurity, we discover the ultimate question behind the curtain: What is creativity? Two dozen independent comic book creators (or "graphic novelists" if you prefer) seek the answers to this question by discussing their lives and passions.
VIEW THE TRAILER



"Closing Time" (short film - 2005 - 4 min. - streaming) is a short film, based upon a mini-comic I did in 1999, shot in 35mm over a single night, and edited over 16 hours. It was in dozens of festivals, including AFI, Seattle, and San Diego; and was available on Atom Films until they changed their format.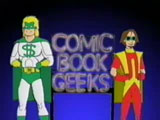 "Comic Book Geeks" (t.v. series - 30 min. - streaming) is a public access television series that's been on-air since 1998, which I've been editing and directing since August 2007. The episodes available here are those I've worked on...god help me. Oddly enough, just as each episode gets better in the second half, the later videos as a whole are better than the earlier ones. Come to think of it, that's not too odd at all. But the show is.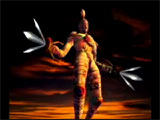 "Dance, Voldo, Dance" (music video - 2003 - 4 min. - 10.7 mb) is a machinima that went viral in 2004. The original version (with music by Nelly) is available at milkandcookies.com. I've also created pages of ridiculously detailed history for those who just can not abide a mystery.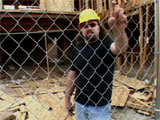 "Do You Pay Your Taxes?" (commercial - 2004 - 1 min. - 1.7 mb) was inspired by the anti-drug P.S.A. (Public Service Announcement) that aired soon after September 11th, 2001. This PSA spoof has evoked giddy laughter, shocked revulsion, and staunch denial. It's meant to be humorous, but without being placed in stark juxtaposition to one of the original anti-drug PSAs the sarcasm isn't very obvious.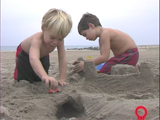 "DreamBigger" (commercial - 2005 - 30 sec. - 2.9 mb) was an idea I had for a spec spot a couple of years ago, but was told that selling it to any company (either auto maker, or ad agency) was not a liklihood, so I made it myself (with the help of a bunch of friends) in December 2004. Shot on DV, so it's not exactly a professional reel piece, but the creative idea is what matters to me most, so I was willing to let the cinematography suffer.